eLearning Virtual Tours
This is an example (WORK IN PROGRESS) that demonstrates the use of photo realistic 3D modeling to create an online eLearning virtual tour. The user is guided through what appears to be a real-life office environment but is actually all created using 3D modeling. This virtual office includes desks, computer monitors, cork / white / chalk boards, paper tablets, laptops, tablet devices, and more. The white board, cork board, and other items are left blank so that a user could use this as a template upon which to add their own text and other content. Click on the image below to launch the interactive demonstration.
Storyline Demo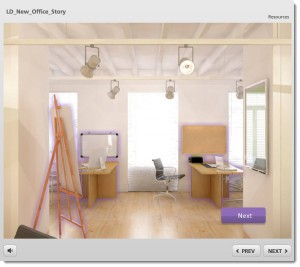 eLearning Development Tools Used:
Authoring Tool: Articulate Storyline
3D Modeling Software: Maya 3D and VRAY
Photo Editing/Manipulation: PhotoShop
Unity Demo – Interactive Version
Download and checkout our interactive 3D tour created in Unity!